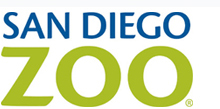 CowParade La Jolla charity auction benefiting Rady Children's Hospital San Diego and The Zoological Society of San Diego.
Where: Robert Paine Scripps Forum at Scripps Institution of Oceanography 8610 Kennel Way (formerly Discovery Way) La Jolla, CA 92038
– Cocktails and heavy hors d'oeuvres will be served before the auction begins.
– Complimentary valet parking will be provided.
Rady Children's Hospital and the Zoological Society of San Diego will share in the proceeds from CowParade La Jolla's charitable auction.
---
COWPARADE ROMA 2010

Palcoscenico d'eccezione per la mandria colorata "Made in Italy" Roma Capitale: un'esposizione d'arte contemporanea "open air" rivolta a turisti e cittadini, dislocata nelle strade e nelle piazze di Roma, dal centro alle periferie.
Finalità della manifestazione è quella di creare un'occasione comunitaria con l'obiettivo di veicolare i valori positivi della socialità e dell'aggregazione, della creatività e dell'arte fruibile ed accessibile al grande pubblico fuori dai luoghi deputati in un rapporto più diretto con i suoi ultimi destinatari, visitatori e cittadini.
E' altresì un occasione di valorizzazione per gli artisti sia emergenti che affermati presentando le loro opere in un contesto cittadino ed internazionale in sintonia con il profilo storico ed urbanistico del territorio. L'evento mira a coinvolgere 100 opere-scultura che verranno collocate nelle principali vie e piazze cittadine, dal centro alle periferie, coinvolgendo altresì i luoghi più prestigiosi della Capitale.

Grazie al prezioso supporto dei singoli mecenati, degli sponsor e degli artisti le "mucche" si trasformeranno in opere d'arte e verranno installate per la durata di due mesi, dal 12 aprile al 12 giugno 2010. Al termine dell'esposizione si svolgerà un'asta pubblica battuta da Sotheby's il cui ricavato verrà devoluto in beneficenza ad Ageing Society.
Arte, ma non solo. CowParade rappresenta anche un'importante occasione comunitaria e di promozione dell'immagine di Roma, non solo in termini di visibilità, ma anche di identità e cultura. In particolare la promozione di iniziative educative, culturali e ricreative nei luoghi cittadini condivisi dalla collettività. In sintonia con la pubblica amministrazione, CowParade darà vita inoltre a iniziative ed eventi. Le opere-sculture di CowParade "arredano" lo spazio urbano comunicando al pubblico attraverso un preciso linguaggio artistico. "Segni" e "citazioni" per riflettere anche sui valori del terzo millennio.
CowParade rappresenta inoltre l'espressione concreta del sodalizio tra il mondo della cultura e quello delle attività produttive. La cultura rappresenta oggi un elemento decisivo per la qualità della vita di una città e di un territorio, ma anche per l'immagine complessiva. Ma ancor di più la cultura è oggi un fattore decisivo nella competitività. Contribuisce, cioè, a quel "Made in Italy" allargato che mette insieme qualità del prodotto, cultura, storia ed ambiente.


NEL GREGGE

Una mucca può mangiare fino a 45 chili di erba e produrre quasi 30 chili di concime ogni giorno

Una mucca può percepire gli odori già a 5 miglia di distanza

Occorrono 340 zampilli per riempire un secchio durante la mungitura. Una mucca produce quasi 200.000 bicchieri di latte durante la vita

Le mucche vivono 25-30 anni

POP COWS

La più grande mucca finta, New Salem Sue, è a New Salem, North Dakota. E' alta 11.58 metri e lunga 15,24 e pesa 5443 chili

La Nuova Zelanda, ha prodotto una serie di francobolli in 19xx in onore delle razze principali del bestiame nel loro paese

Negli anni 90 Harley-Davidson ha offerto un motociclo in edizione speciale caratterizzano da inserzioni di pelle bovina sulle borse e nei sedili. Il modello ha guadagnato rapidamente il nome "Moo-Glide."

Lamborghini ha usato un toro per il proprio logo. Il fondatore della Lamborghini, Ferruccio Lamborghini, era un appassionato di tauromachia (nel mondo antico, spettacolo consistente in una battaglia fra tori o fra uomini e tori ) ed è nato sotto il segno del Toro

Anche a Even Vincent Van Gogh piacevano le mucche, tanto che le ha scelte come soggetto per il dipinto "Les Vache" o "The Cows"

STRANO MA VERO

Le mucche possono rifiutarsi di andare al pascolo se percepiscono una tempesta imminente, and will lie down. Gli scienziati sostengono che la causa sia da ricerca nella bassa pressione che precede la tempesta

L'Holstein mantiene il primato per la produzione di latte - 30.80 chili in un anno

Anticamente in Irlanda, la ricchezza non era valutata nè in termini di soldi nè di proprietà di terra ma in base al numero di mucche possedute

Nel 1897 John Sievers, Jr. ha fatto domanda di brevetto per un'esca da caccia a forma di mucca gigante.

In India le mucche vecchie hanno proprie case di cura

---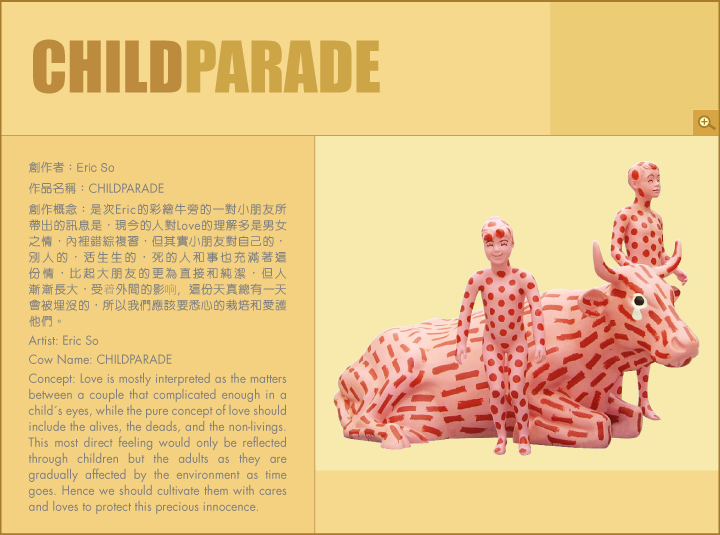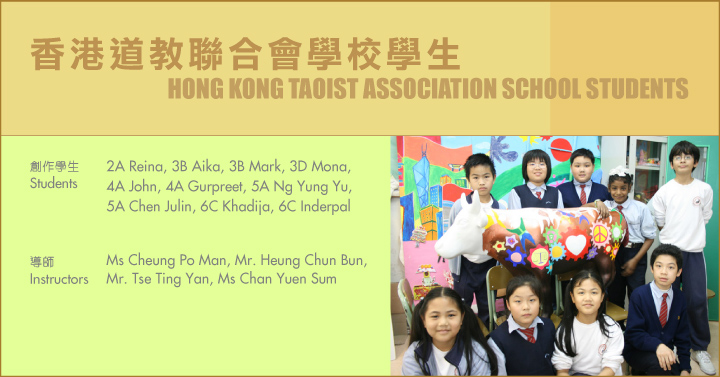 ---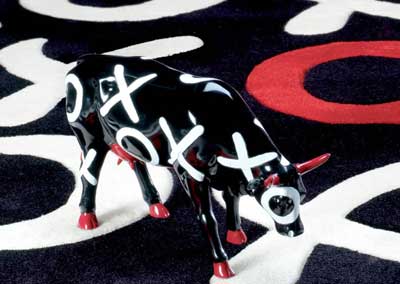 Since 2005 MMI has been the exclusive worldwide licensing agent for CowParade.
CowParade, world's largest public art event, brings artistic visions and philanthropy throughout the world. 10,000 artists, both acclaimed and emerging, have now joined the herd, moooved to render their own interpretation of the cow as an objet d'art. From the original parades of Chicago and New York in 1999 and 2000; to London in 2002; Barcelona, Monaco, Mexico, and Moscow in 2004-5; Paris and Athens in 2006; Milano and Rio de Janeiro in 2007... 2008 Taipei & Korea. 2009 China' CowParade continues to evolve, not just in size, but in creativity and quality of art!
The CowParade event and brand is now internationally known, the cows have been seen by over 100 million people worldwide!
Concluding each event, cows are sold on auction to benefit local charitable organizations. CowParade has generated over fifteen million dollars for charities worldwide. Look for cows in Rome, Madrid, Morocco, the Middle East and China in the years to come!
With MMI as exclusive Worldwide Licensing Agent since 2005, CowParade has become one of the hottest and fastest growing brands. The 1st license of Cow Parade Miniatures of Westland, USA and Sundays, Germany has now expanded into CowParade "Fashion", CowParade "At Home"(Carpet and interiors), CowParade Tableware, New Collectible Jeweled Boxes, Exciting New Stationery Product "CowParade: World-Wide Tour" is soon to hit the international market!
Mooove into the future with MMI and CowParade, plan now for the "Year of the Cow, 2009 to China!" Which will also be the 10th Anniversary of CowParade!
---
CowParade Jeweled Boxes are now for sale at the official CowParade web store!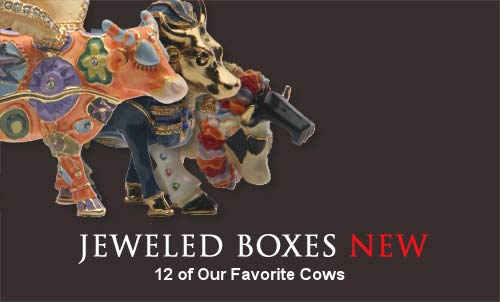 ---
CowParade "World-Wide Tour" Stationery Line Launches!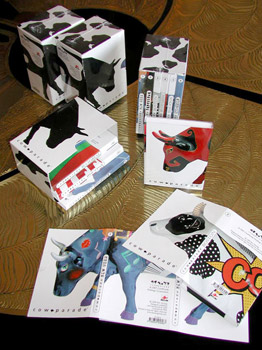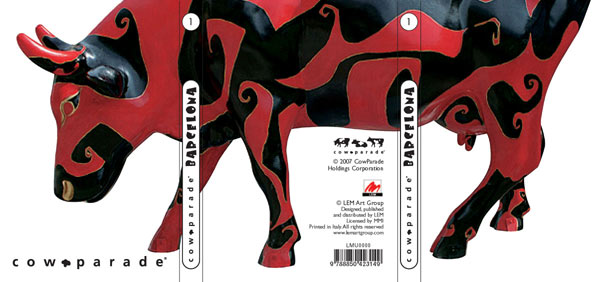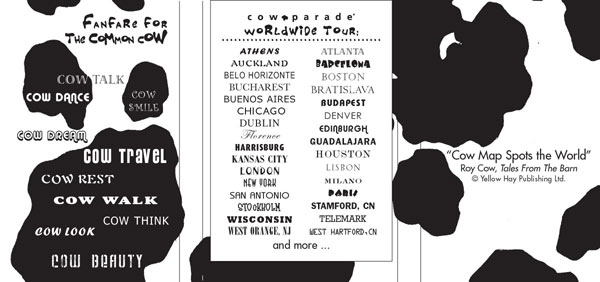 ---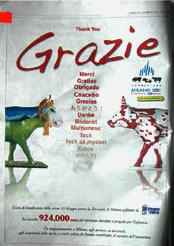 Summer 2007: The CowParade Milano Auction of original painted cow sculptures raised 924.000 Euro!
Proceeds to benefit "Champions for Children" a foundation created to sustain, educate, andsupport conditions for children in developing countries. Sotheby's announced CowParade was the greatest charitable auction in the history of Milan "ever"… Holy Cow! See the full page feature which ran in Italy's "Corriere Della Sera" newspaper, proclaiming the success of the event.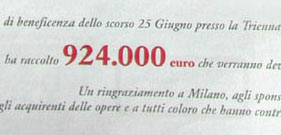 ---
CowParade Milano Causes Quite a CowMotion!...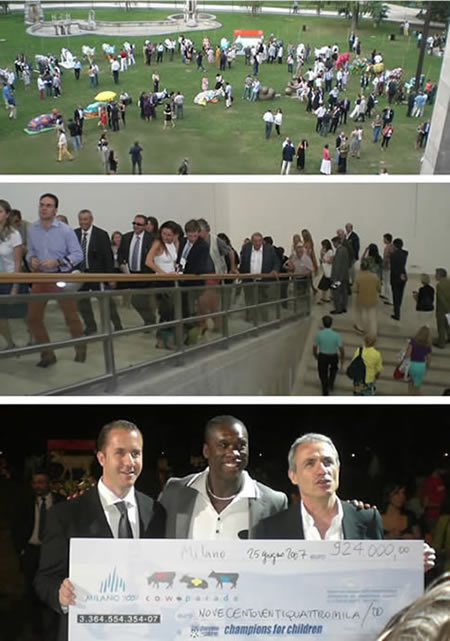 Pictured: Ron Fox, Vice-President of CowParade; Clarence Seedorf, Famous Footballer and Founder of Champions for Children; and Pierferdinando Casini, President of the Inter-Parliamentary Union (IPU).
---
Coming Soon: CowParade Jewel Boxes… a precious collectible!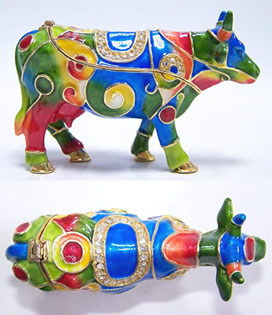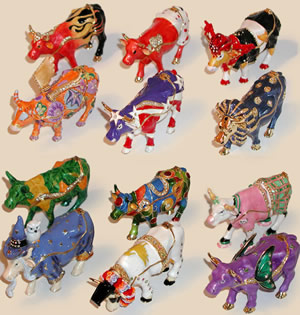 ---
Designer Carpet Collection

---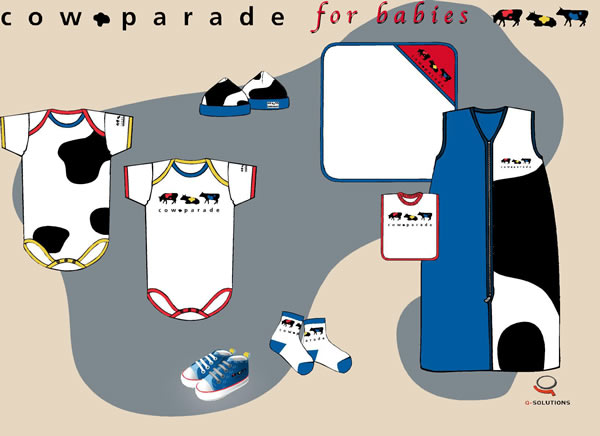 ---
Licensing Show 2007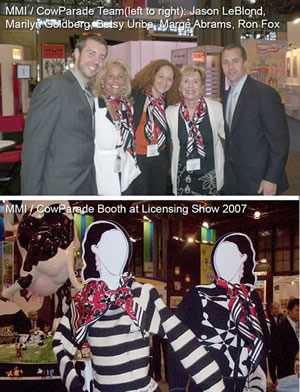 MMI, exclusive world-wide licensing agent for CowParade, had a very successful Licensing Show 2007. Back to back meetings lead to several exciting new agreements and CowParade has become one of MMI's biggest and fastest growing licensing programs! The current list of CowParade licensed products now includes: apparel, bags, ceramics and home goods, jeweled boxes, puzzles, storage boxes, prints, stationery, beach towels, and a designer carpet collection!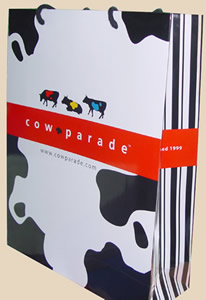 MMI developed a special promotional CowParade shopping bag which was a big hit amongst the hundreds of visitors to the fair, you could "spot" the bags everywhere…
---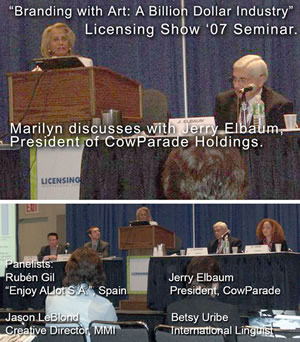 Marilyn Goldberg, President of MMI, was invited by LIMA to moderate a Seminar / Panel Discussion entitled "Branding with Art A Billion Dollar Industry" during Licensing Show 2007 at Jacob Javits Center, NYC. Ms. Goldberg's seminar was in the company of fellow licensing industry leaders such as Ivan Lopez of Disney, Jeff Shapiro of Fox, and Elizabeth O'Neil of Beanstalk Group. The featured panelists included Jerry Elbaum, President of CowParade; Ruben Gil, President Enjoy A Lot, Spain; Jason LeBlond Creative Director, MMI and Betsy Uribe Administrator and Contracts Manager, MMI.
"What is the licensing industry worth today?
Art-branding and Art-licensed Merchandise:
Licensing is an industry that now produces over $15 million worth of retail sales every hour, 12 hours a day, and 365 days a year!"
---